Emergency Department Update
The Emergency Department (ED) at TUH is very busy this week with high attendances of very sick people with a variety of illnesses. We are advising the public to consider alternative care options before attending the ED as unfortunately people with less urgent complaints will experience long wait times in ED. We are working to make sure that care is prioritised for the sickest patients.
The Hospital regrets any delay a patient of any age experiences whilst waiting in our ED, patients are prioritised according to clinical need
People, caring for people to live better lives...
We are the sum of our experiences and we are here to care for you.
We are here to care for you, when you need us, all 3,000 of us with the expertise, specialities and equipment to deliver exemplary care. It's about people caring for people and with every interaction at TUH, healthcare moves on just another little bit. From the day to day routine procedures, to ground-breaking new ones, we have a wealth of skills and resources at your service.

Learn More    View our Vacancies   
Due to COVID-19 there is no visiting allowed.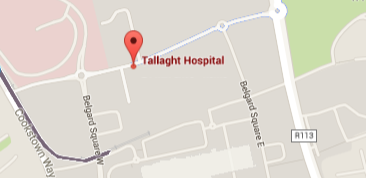 The Hospital is situated in southwest Dublin and is easily accessible by car, bus or Luas. It is close to the M50 motorway and the N81

Click on the button below to book your Appointment
Easy route to some of our most frequently viewed pages

Click on the button below to go to Video Consultations
Tallaght University Hospital TV
For all TUH videos, click on this link